Capt. Clayton Tieman
One of hundreds of USCG licensed
captains standing by to assist you.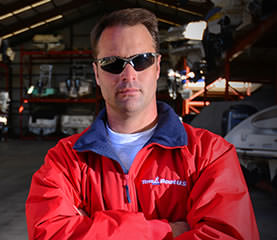 More Boaters Choose BoatUS
than any other on the water towing service.
Why? Because we have the largest network of towing ports
PLUS over 25 membership benefits & discounts.
$72
Unlimited Freshwater Towing
+ BoatUS Membership

$158
Unlimited Saltwater Towing
+ BoatUS Membership
BoatUS Towing Services


We're ready when you are! All TowBoatUS and Vessel Assist captains carry the required USCG Towing endorsements. The independently owned and operated companies are properly licensed and insured to provide towing assistance.
Call our dispatch center toll-free, day or night, 365 days a year for towing assistance. We have the largest recreational Marine Dispatch Centers stationed strategically on both the Atlantic & Pacific Coasts!
Complete service from location of your on the water breakdown or soft ungrounding to the port of your choice.
Earn a $10 West Advantage Gold Rewards certificate for every $250 you spend at our retail partner, West Marine.
Service includes fuel drops and battery jumps. The cost of fuel is high enough without having to pay someone over $200 an hour to drop it off. We'll pay up to your selected service level or choose Unlimited and let us pick up the whole bill! (minus the fuel costs)
On-the-road assistance for both your trailer and the towing vehicle while trailering your boat.
Members receive discounts on fuel, transient slips and more at over 1,000 businesses.
DELORME inReach
Member Discount
Stay Connected to BoatUS Towing
Dispatch from Beyond Cell Range

Affordable Plans to
Meet Any Budget
Various Towing Levels to Suit
Your Boating Lifestyle

Support in
and out of the water
24/7/365 Towing and Trailering
Assistance by the nations largest fleet